La Crosse, WI (WXOW) – Cabin fever got you down? Two-time Food Network Holiday Baking Champion Jen Barney of Meringue Bakery has the sweet treat to boost your spirit.
Barney recently won the Food Network's Holiday Baking Championship Christmas Eve "Homecoming Special" episode, which saw former baking winners paired up for a one-off winner-takes-all competition. She and her partner, Jordan Pilarski, wowed the judges with a cake that blended the pair's modern and traditional styles featuring a spur-of-the-moment "snow globe" feature that Barney thinks put them over the top. She called her pairing a "dream team."
When it comes to baking at home, she said it's not too hard for even novice bakers to make their creations look professional. Barney shared some of her best tips exclusively with News 19 Daybreak.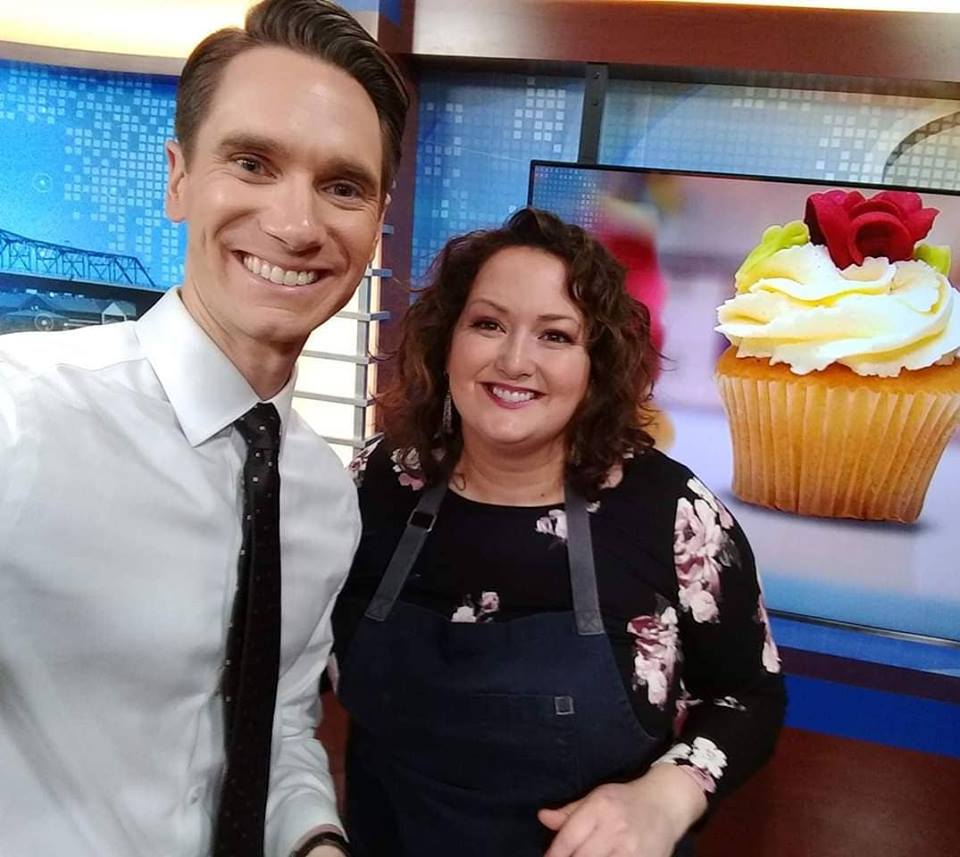 Photograph Courtesy of Dustin Luecke
1. EASY EQUIPMENT
First, she said all of the equipment needed can be picked up at a local shop. There's no need to special order any state-of-the-art tools to make the most of your cakes. Standard piping bags, large tip round and star-shaped nozzles, a basic butter knife, stand-mixer and an ice-cream scoop are keys to success.
2. GIVE IT TIME
When it comes to the frosting, she suggests completely filling to the top the mixing bowl with your favorite buttercream frosting recipe and letting it mix with a paddle attachment for at least 10-15 minutes. Barney said that gets all of the air pockets out and makes for a smooth, velvety frosting.
3. FINDING BALANCE
For the cupcake itself, Barney said it's important to make sure each liner is filled enough, and it might take some practice to find the perfect balance. She said it's best to have a small mound over the top of the liner when its baked. That way, you have an easy surface to work with and a good cake to frosting ratio.
4. FLAVOR AND FLAIR
If you want to add a pop of color and flavor, she said to find some fruit powder instead of a jam, preserve or food coloring. The powder shouldn't change the consistency of the frosting.
5. GET THE SCOOP
An ice cream scoop is a great substitute for piping the frosting onto the cupcake. Barney said simply scoop up some frosting, top the cake and smooth it out with a knife or spatula to create a smooth top with which to work.
6. PIPING LIKE A PRO
For those who go the piping route, using a large round tip, Barney said start from the outside around the edge and work your way in to create that ice-cream cone effect. When making rosettes, do the opposite! She said start from the inside and work your way out to make a beautiful flower.
7. "HANDY" SOLUTION FOR SPRINKLES
Barney's pro-tip for decorating the cakes with sprinkles? Put a fair amount in the palm of your hand and dab the cupcake around the edges, turning it to pick up the sprinkles from your palm. Don't forget to place a box underneath to catch the sprinkles.
8. BRIGHTEN UP THE BERRIES
When topping with fruit, like raspberries, Barney said make a simple glaze. She used an apricot preserve with a small amount of pineapple liquor, heated to create a smooth, yet slightly thick texture. She then "painted" the berries with the glaze using a basic paint brush (used for food only!) creating a shiny, beautiful topper.
9. HANDMADE HEARTS
You could top the cakes with the chalky, candy hearts that are everywhere around Valentine's Day, but why not make one of your own? Barney suggested getting some colorful packs of fondant, a heart-shaped cookie cutter and edible markers to create a special message for that special someone.
10. FINISHING TOUCH
Bottom line, Barney said, when all else fails, put your cake creations in a beautiful box and wrap it with a ribbon. That, she said, can fix even the messiest of cakes!
Watch the full video by clicking here: https://wxow.com/news/daybreak/2019/01/17/10-cupcake-tips-from-a-two-time-food-network-champion/